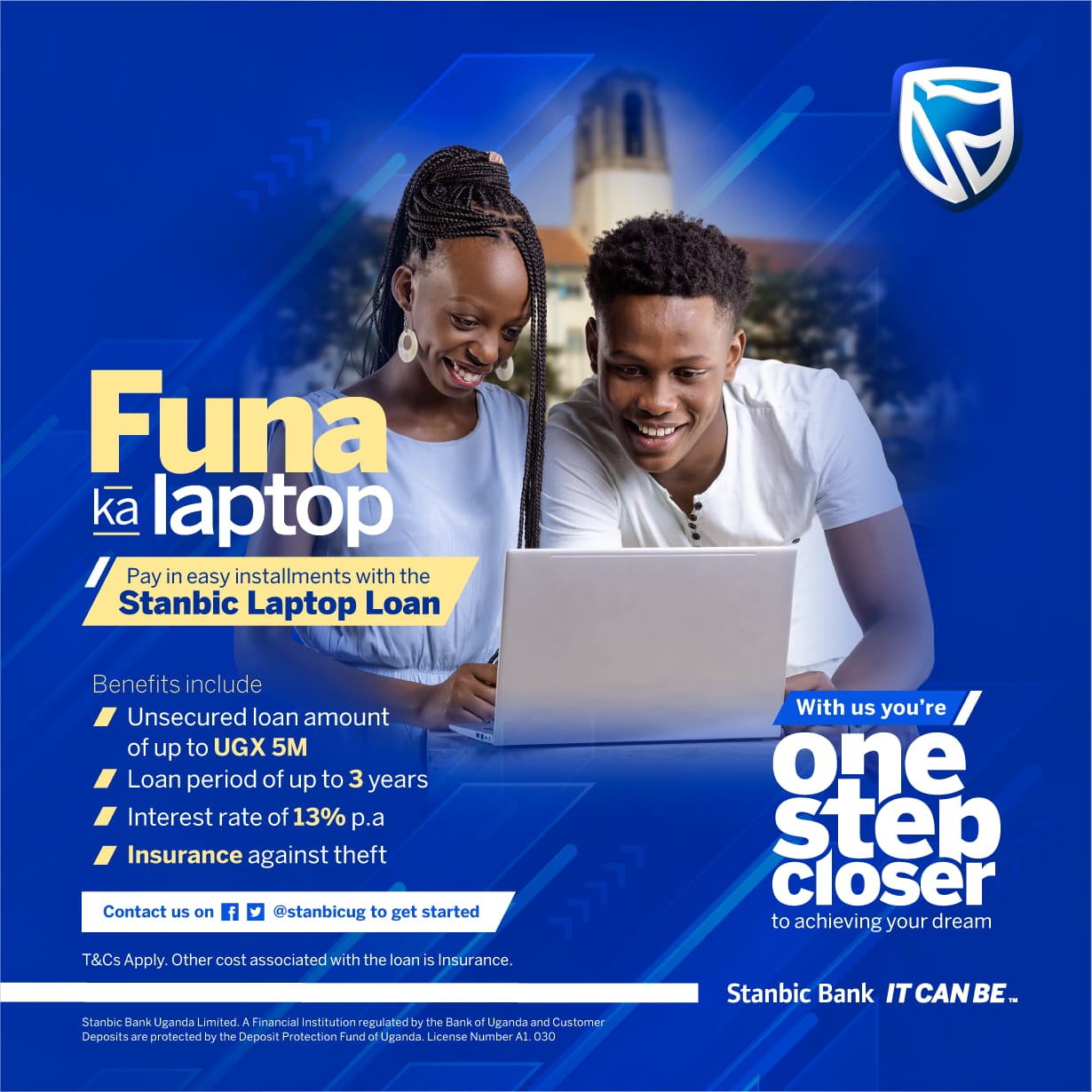 To all students and staff,
Dear staff,
On the 20th of March 2022, 
In his communication to staff, VC mentioned a key thing about, 
Laptop Hire-Purchase Scheme and Laptop Bank
He said, "Management has finally signed a Memorandum of Understanding with Stanbic Bank to operationalize a laptop hire-purchase scheme for members of staff and students. The laptops will cost between UGX 1.4 million and UGX 5 million depending on the specifications."
Specifications Approved by COCIS and DICTS
He further mentioned, "These are good laptops, whose specifications were approved by COCIS and DICTS. 
Deposit of As Low As Ugx 70,000
To acquire one, VC wrote and we quote, "Under the scheme, a member of staff may acquire a laptop upon Paying a deposit of UGX 70,000 for the lower specification laptop, and complete the purchase through payment of monthly installations of UGX 70,000 over a period of three years." 
Maintenance & Insurance
About maintenance and insurance, VC further mentioned, "The laptops acquired under the scheme will be maintained free of charge and they are insured for theft. I urge all staff members to acquire personal laptops through this great scheme."
Specifications
In brief, The brands of the Laptops are Dell and Hp of the 11th Generation.
Below are the specifications.
Low End
i3 11th Gen Win 11 1TB Hard drive, 8GB Ram 14 inch screen @ 2,478,000 UGX
Mid End
i5 11th Gen win 11 8GB RAM, 1TB 14inch screen @ 3,776,000 UGX
High End
i7 11th Gen Win 11, 16GB RAM, 1TB SSD, 2GB Nvidia graphic card@ 4,965,000 UGX
NOTE:
All this is inclusive of a one year warranty, insurance and free tech support.
For more details walk into any Stanbic Bank, or MAK Branch or reach out to 
1. Roger Matovu on +256772664498, 
2. Derrick Katulege  on +256787419641, 
3. Maurice Mugume on 0701307396 or 
4. Manager (MAK Branch) on 0752979707 
5. Evans (Mulago Branch) 0773965583
All your queries will be answered by the above contacts.