By Arthur Moses Opio
Dear staff and students,
The Uganda National Computer Emergency Response Team and Coordination Center (UG-CERT/CC) at NITA-U has organized a series of cybersecurity
webinars to share best practices on relevant issues in cybersecurity. The seminars will be running for the next five weeks every Thursday
from 2:00pm to 3:00pm via Zoom.
Zoom Link: https://zoom.us/j/99323103466
As part of their strategic focus on Cyber Security, this will enable them to introduce new topics to facilitate knowledge sharing and experience to enable build a cybersecurity community in Uganda. 
The Director DICTS encourages staff to spare time to be part of this one hour engagement that will enable us to learn knowledge on Cyber resilience, zero trust, privacy engineering, blockchain, infuse defense and incident response.
Schedule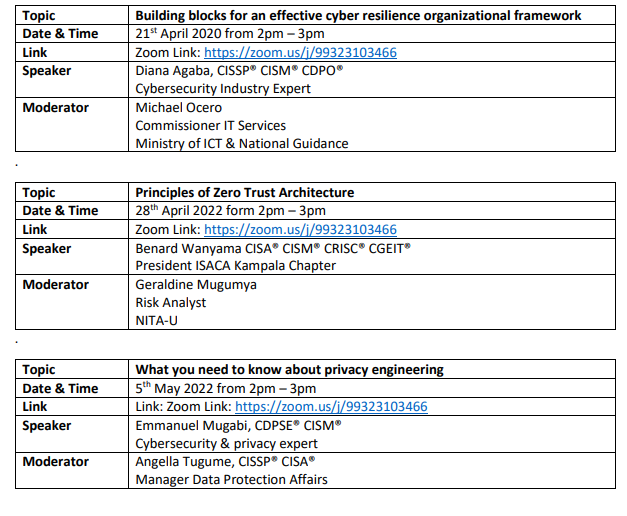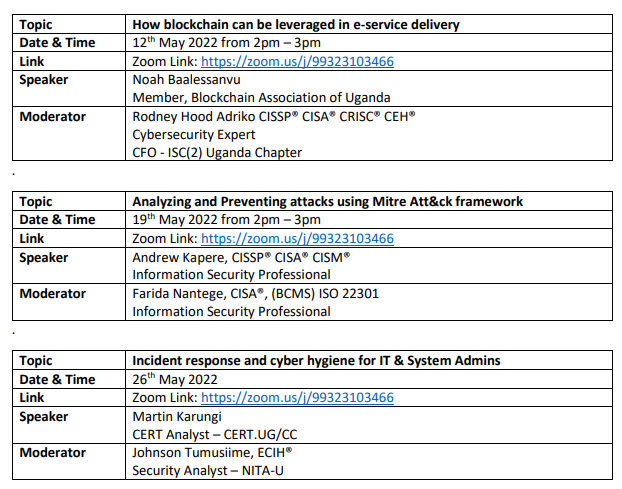 ABOUT UGANDA NATIONAL CERT.UG/CC
The Computer Emergency Response Team and Coordination Center (CERT.UG/CC) at the National Information Technology Authority – Uganda (NITA-U) is the focal point for incident handling at both national and international level. 
To enable us build cybersecurity resilience and build the human firewall, ensure we know best practices, let us be part of this.
We are better off safe than sorry.
End User Support team