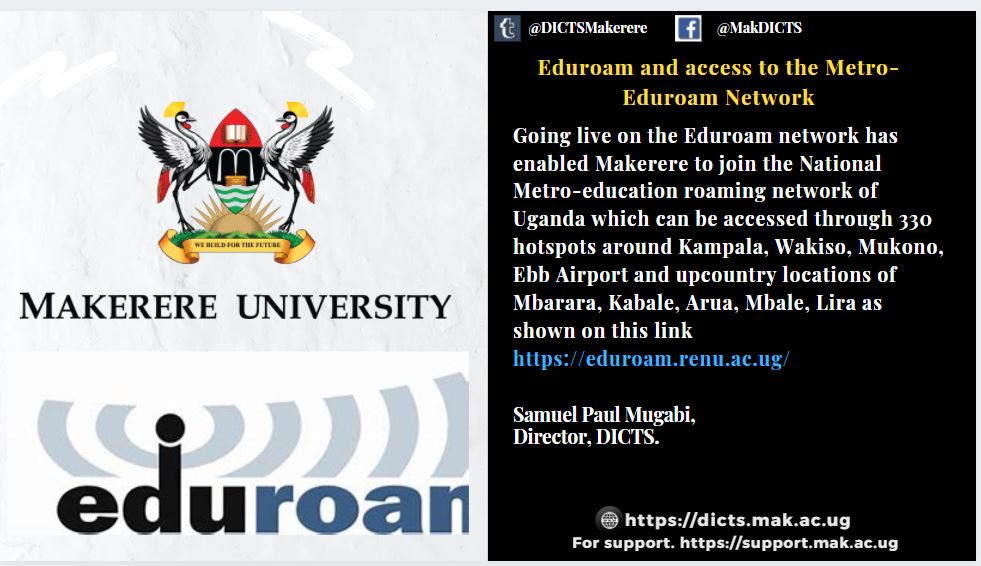 By Samuel Paul Mugabi
Dear staff and students,
DICTS recently completed the implementation of the Eduroam network service at Makerere University. The Eduroam network service, allows you to use your top-level Makerere university email address (@mak.ac.ug) and for students (@students.mak.ac.ug) to access the wireless network services of any university or research entity in the world that is a member of the global  eduroam network.

Therefore, Makerere University academicians will now be able to simply connect to wireless network services of other eduroam member institutions they visit using the Mak-email address login credentials.

The Mak-eduroam wireless signal-name is "eduroam" and all visiting academicians to Makerere will now be able to access the Makerere wireless internet service using their home university email address login credentials.


METRO-EDUCATION ROAMING AT ZERO-COST (METRO-EDUROAM)

Going live on the Eduroam network has enabled Makerere to join the National Metro-education roaming network of Uganda which can be accessed through 330 hotspots around Kampala, Wakiso, Mukono, Ebb Airport and upcountry locations of Mbarara, Kabale, Arua, Mbale, Lira as shown on this link https://eduroam.renu.ac.ug/.

Given that the majority of Mak-students are currently studying remotely, DICTS is going to broadcast the metro-eduroam hotspots map to the student community so that they can easily access Mak-portals/websites at zero-cost. This will go along way in solving the challenge of internet cost for students that live near these hotspots across the country. This is because, traffic of Eduroam member institutions on the RENU network, is considered to be local and therefore carries no extra charge.

CONSOLIDATING ICT-SERVICE ACCESS AT MAKERERE UNIVERSITY (ENABLING THE Mak-ICT SERVICE MANAGEMENT POLICY)

In the recent past, the MakAIR service was accessible through a generic passphrase that could easily be shared thus posing both a security threat and bandwidth haemorrhage/loss from the institution. All this has now been taken care of by Single Sign-on.

DICTS has been guided by the Makerere University ICT service management policy to progressively consolidate access to university ICT services through Single Sign-On. This, is enabling DICTS to improve ICT resource management, ICT-security and planning for Mak-users.

At present, authorised Mak-users can ONLY access the following ICT services via the @mak.ac.ug email address and password ;
Mak-webmail
Mak-wireless (MakAIR)
MUELE (Makerere University E-Learning Environment)
Mak-eHRMS (Electronic Human Resource Management System).
Metro-eduroam services (this list will keep growing)

Please click the link below to view all Metro-eduroam hotspots around the country https://eduroam.renu.ac.ug/

The End-User Support team at DICTS will share "How-to" videos to further explain benefits of Educational roaming as well as how to connect to the Metro-eduroam hotspots especially for the student community.