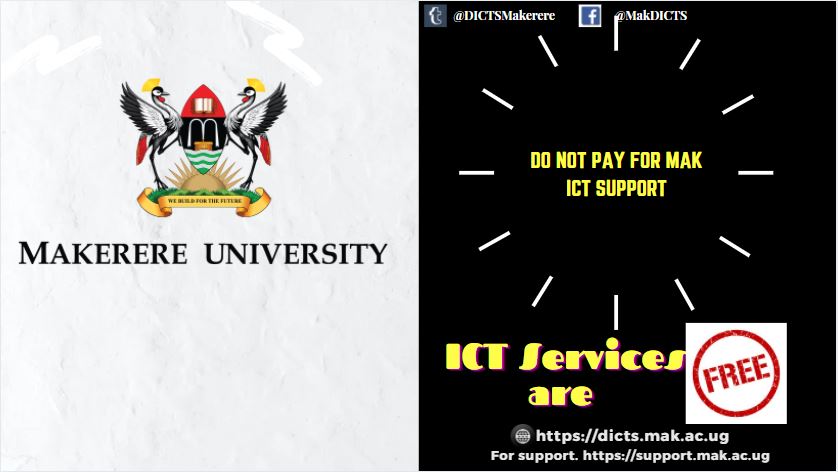 Dear students,
The Directorate for ICT support would like to let all students know that ICT support is free. It should not be charged for.
ICT support for all Makerere University services is FREE and readily available though the Directorate of ICT Support (DICTS). You already pay technology fee which already caters for ICT support services within the University.
We have seen several ICT support offers at a fee being advertised online like this one below.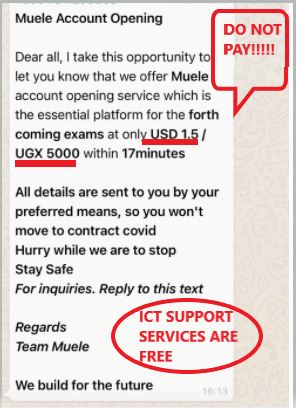 Please reach out to DICTS at no extra fee.
The disadvantage of getting support from personnel outside the University is that you will end up being misled or defrauded.
In the recent past, students have been duped about paying for application and many have lost tuition fees because they trusted someone they do not know. Some students have created their email accounts via kiosks in Wandegeya or kikoni and they end up saying, "the recovery email address is wrong." With a wrong recovery email address you will not be able to recover your password once forgotten and you will find yourself getting back to DICTS to rectify the issue.
We highly discourage students from seeking support from personnel who are not authorized to do so.
We have come up with guidelines on most of the ICT services and all you have to do is visit our website and knowledge base(answers.mak.ac.ug) for the right information. 
We also have a YouTube Channel (Directorate for ICT Support - Makerere University), please subscribe to the channel and be notified of resources that will be able to guide you with ICT support on various services.
You can also follow DICTS on Twitter via @DICTSMakerere and Facebook @MakDICTS