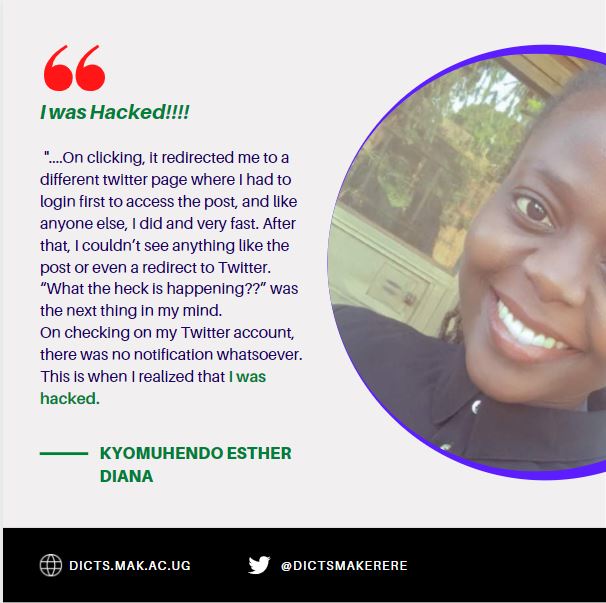 By Kyomuhendo Esther Diana
Why would someone bother to hack me?
Let me start with a mini-rant: Why would someone even bother to hack me? I'm no rich dad's daughter, millionaire, or even celebrity whose name one may want to tarnish. I can almost understand that some hackers have a political rivalry against governments or organizations and maybe the rich because of their monies, but why target freelancers or a new graduate like me who is likely already struggling to get by? It is just plain evil!!!!
Hacking Attempts (Twitter, Facebook Hacked)
Well, that aside, attempted hacking happens all the time and it is most likely to happen every day as long as technology evolves. It can become harmful to me as an individual and to the society around me. My Twitter and Facebook have been hacked recently by social engineering.
Social Engineering 
In the context of information security, social engineering is the psychological manipulation of people into performing actions or divulging confidential information. (Wikipedia)
First social engineered message(First Hacking Attempt)

What Happened After Clicking The Link?
So, on a fateful Monday morning, someone sends me a message via WhatsApp informing me of a certain tweet I had made earlier and how it was thriving, and you know what? I quickly opened the message and clicked the link as shown in the picture above so I could find out.
On clicking, it redirected me to a different Twitter page where I had to login first to access the post, and like anyone else, I did and very fast. After that, I couldn't see anything like the post or even a redirect to Twitter. "What the heck is happening??" was the next thing in my mind.
On checking on my Twitter account, there was no notification whatsoever. This is when I realized that I was hacked. My credentials were taken and I couldn't do anything about it. Then my boss came in laughing. Thank God it was a simulation done by my supervisor to teach me about hacking and how social engineering is at the forefront of hacking to further open my eyes to Cyber security and Ransomware. He advised me to change password immediately and also be alert on any links I get that I don't understand.
I also got to learn about the sites "Have I Been Pwned?" and "Firefox Monitor" for checking whether emails have been breached or compromised.  And on checking my email, it was as good as new, it had no breach at all. This was a very good and interesting experience and it opened my eyes to be alert towards any adverts, pop up messages online, messages that appear as gifting messages, messages via email from unknown senders, it all could be scam.
We Need To Stay Alert, Think Before You Click, we are better off safe than sorry. #BeCyberSmart